WILL YOU FALL VICTIM TO UNSAFE LIFT WORK?
---
CHECKING YOUR LIFT ENGINEER IS SAFE TO WORK...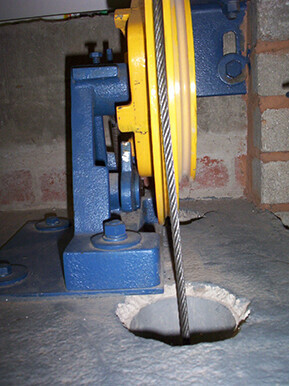 ANYONE working on a lift including engineers, apprentices, mates, surveyors, consultants, insurance inspectors and management personnel must be qualified and able to demonstrate safe competence when accessing/egressing lift equipment. They must work safe helping to protect members of the public and themselves from preventing serious accidents, danger or harm.
The Lift Engineer Safe Register (LESR) contains an authoritative list of lift operatives who are registered to work safely on passenger and goods carrying lift equipment which follows a course of sufficient training, assessment and examination of knowledge and skills. It is an online public register of persons that have met our standard that are endorsed as safe and competent to work on lifts during regular maintenance/repairs or when a new lift is being installed.
PROBLEMS CAN ARISE with the improper and dangerous working practices of lift engineers that work on your lifts. This applies to you whether you are responsible for the lift or you own the building.
Personal accident claims, contractual disputes & litigation are costly business with lifts being a high capital cost item. The life cycle of a lift follows installation/testing, maintenance, fault finding/small repair, modernisation projects/upgrades and to ultimately repeat with a new lift installation leaves the lift owner at risk of financial claims if things go wrong.
Most lift firms are sales biased, rather than focussing on the continual ongoing safety training of their qualified and experienced lift personnel who would pass a safety audit, thus helping to protect the lift owner from a court process. An independent and experienced lift engineering safety and training consultant, that is not receiving a commission from a lift contractor, is highly recommended and the best source of independent advice.
WE AIM TO PROTECT the public from unsafe lift engineering practices and achieve this through our national investigation team tracking down on poor quality lift works, low standards of safety and inspections of registered lift operatives. It also serves to raise awareness of the dangers of lifts investigate reports of unsafe works and where appropriate, notifying the HSE of any dangerous lift engineering works being undertaken. By law, all lift operatives must work safely in accordance with the Health & Safety at Work Act 1974 and various other regulations. Breaches of these can result in fines and/or imprisonment for the lift operative, the lift employer and also the lift owner, set by the courts.
The Level 2 Lift Industry Standard 2426 Certificate of Validated Achievement is delivered by Training Centre Direct and awarded by the Nationwide Academy of Lift Owners which certifies an operatives registration. LESR registration means that operatives have proven to us that they can safely move passenger lift cars on engineers inspection control properly and can gain access to the lifts pit for both traction and hydraulic lift systems while protecting members of the public. It also means that they can work safe in areas within the lifts motoroom (or pump room for hydraulic lifts) and operate the lifts machinery via pendant control, car top control and/or any override switches to safely move the lift car to its desired destination.
WE WORK FOR THE lifts building owner and operate onsite safety audits to check the competence level of their lift contractors to help them stay out of court. As a result, the training and examination checks we make before approving a new registration extend to ensuring and safeguarding that those applying for registration are suitably qualified as competent. LESR investigates reports of illegal, negligent or bad workmanship jobs, and where relevant this information is passed to the Health and Safety Executive (HSE) who have the power to prosecute. To view the public register of prosecutions click here, to report a health and safety issue click here.